Everyone seems to be asking, what's next for social media — we've got our LinkedIn profiles in place, we're blogging, we're posting on Facebook, we've got YouTube videos, podcast syndication, and we send out Tweets from both individual and law firm accounts, now what?
Try Community.

It's time to trade the "casting-your-giant-net-hoping-something-will-swim-in-to–it" only approach to social media for an eco-system that nurtures, serves and replenishes.  Sound sort of fishy? It isn't. And, there's a great new book available that will give you plenty of reasons to do so, then walks you through some best practices:
Social Nation by Barry Libert.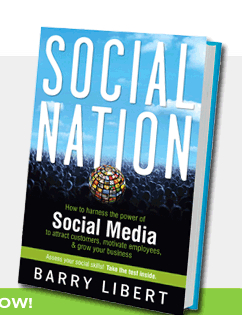 Libert is the founder and CEO of Mzinga, a company that provides social software that manages two billion conversations a month for 15,000 communities on behalf of 300 well-known companies. He is a cutting edge thinker and doer that credits his success to the communities that he's been so successful in building. [Note: The VMO was given a complimentary copy of Social Nation to review. It did not disappoint!]
"The online social movement is taking the business world by storm. Customers, employees and onlookers are making connections with one another and your brand in new uncharted ways. Social Nation will show you just how important those connections are and how fostering them can help you build a more successful, profitable business." from www.socialnationbook.com
Top Take Aways:
Libert provides a lot of white space for you to move around in. He acknowledges that change is not easy, and that "building social leadership skills" is a journey.  He suggests that the more you practice community, the easier it becomes and the more rewards it delivers. There's even a companion "test" you can complete online to assess your Social Quotient.
He defines four driving forces in the shift toward a more social business world and explains them in detail:
Today's changing workforce
Open business models
Emerging technologies
Social monitoring and measuring tools.
He confirms that Community minded companies are creating extra-ordinary value, revealing findings from a study by Wetpaint and Altimeter Group, "The World's Most Valuable Brands. Who's Most Engaged?" The study shows that financial performance increased by as much as 18 percent on average in one year for those companies most engaged in social media. By comparison, those companies least engaged saw an average decline of 6 percent in revenues during the same period.
Socializing requires more than just being there — you have to interact with others, instigate discussions, and respond during conversations. Noting that:
"In the past companies and institutions have traditionally focused exclusively on the bottom line while disregarding the people and the processes by which they got there. In today's social world, the collective voice is driving business, leading to the conclusion that to reach that bottom line successfully, businesses must understand and embrace these social models, sensibilities and processes."
Chapter after chapter, the jewels in this book are dripping.
Culture is the Company's DNA
Letting culture lead the way means allowing your core values to become integral to every piece of your social nation building process.
Clients want more than transactions. They want connections.
The business world is changing. The more we listen and the more we understand someone else's needs, the more successful we can be in today's socially connected world. The less we listen, or try to pretend we're listening (i.e. without authenticity) the more irritated and turned off other people will become.
Technologies connect people in faster more transparent ways.
Very few people can be successful in a vacuum. When we interact with each other we have a better chance of being successful.
The insight we receive from social interactions and communications that take place among and between our customers, employees, investors and partners can be turned into action-able activities –new service ideas, better customer support, improved marketing communications, enhanced community activity, involvement, and positive sentiment.
Social Intelligence is valuable for remaining competitive.
There is the potential to gain intelligence from every communication and interaction – to improve what the firm does, sells and how it responds in real time to community requirements. Learn from your engagement with others. Use the information to do what you do better. Help you make decisions. Insights you can gather from your current clients as well as those you don't have yet. Which new services should we offer?
Empower your clients.
The most cost effective way to stay competitive is to retain existing clients. One way to achieve this is to anticipate and understand the needs of existing clients so that you can reach them before they even realize they have an "unfulfilled need."
"Social intelligence offers business the means to proactively seek and act: To address problems and remain competitive. It can act as a bridge between what you can do and what others can do for you. It's a tool that links a company willing to listen with the customers who want to share and innovate."
The bottom Line
Using Internet technology to deliver real value, increase productivity and enable interaction can give law firms, businesses, non-profits, and other professionals an edge over the competition [while its still available].  So, stop adding to the noise and start making a difference.
Read this book and learn how. Then, come back and leave a comment about what you found most helpful for building your social nation…
Thanks for stopping by!