October is "just around the corner," which signals that wonderful month of the year when you are asked to prepare next year's marketing budget. No such luck as a blank check.
The temptation to procrastinate will be strong.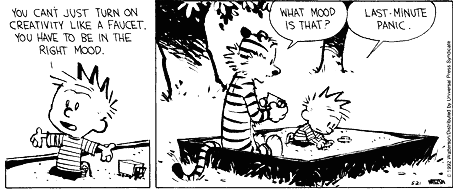 Seriously, speaking from experience, get the gears turning as there is not enough holiday candy in the world to keep the bean counters, or your boss, off your back through the end of December. #FAIL
It probably goes without saying, but, marketing encompasses (almost) everything a law firm does—what problems it addresses, how it solves them, what it costs, where it sells its services, who it recruits to do the work, and how it is promoted. An outsider's perspective, void of internal politics, can be a real boost.
Why Hire A Consultant?

To acquire perspective;
To perform functions that aren't typically handled internally;
To connect the firm with a pool of talent it wouldn't otherwise know or have access to; and/or,
To gain expertise in an area that the firm is about to enter.

(Props to LarryChase.com)
But, not all law firm marketing consultants are equal…
Telling people you do "marketing" is like telling people you cook. What does it actually mean? Do you cook dinner every night for your family or work as a professional chef who cooks for hundreds every hour of the day?
The same analogy is true for a marketing consultant. While the family cook may be perfect for a firm that does not employ a chef, those that have a chef can benefit from fresh recipes. No longer a generic occupation, law firm marketing consultants specialize. And it is both a science and art to do it well…
Big-Picture Strategist: This consultant will be engaged to find the "profit pool"—that place where the law firm's clients and prospects, which are willing to pay for a legal solution to their opportunities or problems, swim. This consultant will have 360-degree knowledge of the business of law as well as sound understanding of go-to-market strategies. Above all they will be forward thinking, creative, and amazing communicators.
Public Relations Consultant: This consultant will focus on corporate communications—on a project basis or retainer. Their services might include assessing current programs, building a program from the ground up, and/or assisting in the selection of a PR vendor for the firm. Some will offer expertise in directory submissions, special event promotions, or merger/acquisition publicity, among others. Some work independently, while most are tied into an agency that can provide or supplement your public relations needs—including social media. They will possess excellent writing skills and have ready access to reporters and bloggers in your market.
Business Development Consultant: Typically, these folks instruct attorneys and practice groups on relationship building and closing sales. They often contract as coaches for individuals in your firm and provide discipline and accountability. Some have developed proprietary methods, forums, and educational software. The best will have a large circle of contacts for you to leverage.
Client Relations Consultant: In the purest sense, this person(s) is skilled at one-on-one client feedback interviews, but in some cases they will also be savvy in conducting other types of surveys and creating feedback tools. They will work with the firm to develop a program, execute the interviews (or surveys), analyze their findings, and write a report with actionable recommendations. They will have excellent people skills, superior listening skills, and the ability to cut through the noise.
Proposal Consultant: (Sometimes referred to as New Business Consultant or Competitive Intelligence Consultant.) This consultant will have a particular background and skill set in competitive intelligence (collecting and analyzing) and writing. They may advise on or execute complex proposal submissions. The benefit they offer often reaches deeper into strategic planning and decision-making.
Project Management Consultant: Typically hired to handle large, time consuming one-off projects such as website re-development, SEO strategy, corporate rebranding, or other firm-wide marketing initiative where in-house expertise or bench strength isn't available. Although a vendor/agency will include a project coordinator/account manager for your job, that person rarely has access to or understanding of the law firm side of the equation—they are primarily charged with trafficking tasks and gathering assets needed by the vendor for the completion of the project. Thus, the project management consultant will lead the project on your behalf from start to finish. They should have a successful track record of similar projects, although the bottom line here is expert organization and communication skills to keep your project on time and on budget.
Digital Media Consultant: Particular knowledge in integrated, multi-channel, digital marketing presence—a must have in today's marketplace—is essential. This is a big picture person. They will have a strong background in all things web, technology and law firm marketing, and have a creative and visionary mindset. They may start with an audit of your firm's digital real estate and recommend new channels to add to existing channels to create a comprehensive plan for your online presence. Or, they might be a hired gun to address and execute a specific digital/social media campaign outreach. This consultant will be fluent in analytics, back-end web technology, customer experience marketing, and all types of content marketing. They will know the ins-and-outs of sponsored-links, social advertising, company-pages, email marketing, and multi-media, as well as SEM (search engine marketing) and SEO (search engine optimization). They will know their way around CRMs and email marketing services like Exact Target and Constant Contact. AND, they will bring it all together for you in a neat package.
Even if you have staff assigned to digital marketing tasks, an outside expert can offer fresh ideas and an improved framework. They may be available to augment in-house resources on a tactical basis.
Marketing Technology Consultant: As marketing automation grows, this consultant may become a necessity, not a luxury. They will help you understand the various tools and vendors available. They often come in to advise on customer relationship management databases (CRM), but their ability to see the big picture of all your marketing technology needs may be the real value in hiring a marketing technology consultant. Some will have the tactical resources to clean data or manage software applications.
Marketing Department Strategist: Many firms will bring in this marketing generalist to audit, write up a report, and advise on the firm's marketing initiatives, personnel, and department structure. They may also have a background in recruiting marketing personnel. Firms that are undergoing restructuring, mergers, or acquisitions tend to hire this type of consultant to provide benchmarks and assist in staff reductions or re-assignments.
Social Media and Networking Consultant: The job of this person is to train individuals and assist the firm in the nuances of social marketing. The role is typically one of instructor and coach, but often extends to strategy, ethics, and tactical assistance. This consultant should have excellent communication skills, including public speaking. They will have a solid understanding of the legal market, how people buy legal services, and a good handle on social media tools. (Some overlap with Digital Marketing Strategist.) Personality and credibility is not optional, as they need to relate to individual lawyers in your firm. Most recently, some social media consultants have added automated software to their offering, which makes it painless for attorneys to share content and stay top of mind on their networks.
Content Specialist/Consultant: With content marketing rising to a new level of urgency in B2B marketing, the need to not only produce professional content but also to plan its distribution has become a critical tipping point. A Content Specialist will provide audits, strategies, and counsel, and in most cases professional writing and editing capabilities for all variety of corporate communications including website, blog, and social media content, as well as executive reports, articles for trade journals, whitepapers, eBooks, slide decks, and other forms of corporate journalism. Bonus if they have expertise in multi-media, including the hottest trends today such as the creation of info-graphics and other visual content.
CMO for Hire: The adjunct CMO/Marketing Director consultant provides part-time or interim leadership. Unlike a few years ago when the market saw a glut of unemployed legal marketers (and lawyers) who turned to "consulting" while they waited out the economic downturn, today's CMOs for hire have chosen this specialty. They are adept at managing multiple client accounts, working on a part-time basis, and provide value to firms that don't have a full-time senior staff member. These consultants typically bring years of marketing leadership experience to firms that would otherwise not have access to such knowledge base.
What does it cost?
A consultant may be one individual or they may bring a team, providing agency-like services. In either case, most offer project-based and hourly fees, as well as retainer-based fees with flexible access. For certain projects, your consultant may require a set period for their engagement. For example, a public relations, web SEO specialist, or social media consultant will probably require a 90-day minimum engagement, as this is typically the amount of time required to see initial results. That's okay. Expect it and more, while you budget for success.
Some consultants will front load their fees with the bulk being billed in the start-up phase of the relationship—such as a presentation at a retreat with follow-up coaching. Or, where the build out of a website, blog, SEO project, or social media campaign is on the menu, they will often offer follow-up maintenance at a manageable monthly or annual retainer. The takeaway here is that most consultants will negotiate. If they prove their value, hopefully the relationship will continue for you as they will become a trusted advisor, much like that which your own lawyers strive to achieve.
In most circumstances, the "right" consultant is one that you believe will provide fresh ideas and have the skills to formalize a plan and launch the solution, giving you guide posts or tools to measure your success.
Many consultants have overlapping skills, but if you can clearly define the projects and initiatives you want to accomplish in 2015, a specialist may be the most direct route to success.
Do not procrastinate.
Next Up | Tips for Hiring a Law Firm Marketing Consultant: Part II – How to Interview and select a Law Firm Marketing Consultant
Publication date 9/6/2014