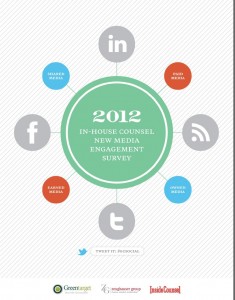 Greentarget, Zeughauser Group and Inside Counsel magazine just released survey data that updates their oft quoted 2010 findings on how corporate, in-house law departments are using social media with The 2012 In-House Counsel New Media Engagement Survey. (News release below.)
Just 19 months ago the 'power users' were the under-40 crowd. Today, the survey shows that, hey, even lawyers in their 40's, 50's and 60's—the decision makers—are jumping onto social media more frequently to, in my words, "better understand their choices."
What's new?
That's right, they're out there listening, reading and evaluating the private practice attorneys who every day conduct a type of dog and pony show as they post to their blogs, Tweet their successes, and network on LinkedIn. But that's where it sort of ends. Don't expect to get the GC to engage in Twitter banter with you nor comment on your blog—they're not engaging as frequently as they are stalking.
The survey's executive summary states that of the 86 percent of the in-house counsel bar that visit social media at all, 68 percent use it to listen exclusively, while just 32 percent say they both listen and engage with others. So, the majority of in house counsel is essentially invisible and largely prefer to consume content without interacting on new media channels. (Interestingly, this I believe tracks close enough with the North American population in general. The last available (free) social media engagement data reported in 2008 showed that 48% of online U.S. adults were spectators and only 18% creators, 25% joiners and 44% inactive. From Groundswell, by Charline Li, Josh Bernoff for Forrester Research. These numbers have been updated, but I don't have access to them.)
Lawyers win.

Though not surprising, it looks like the best new media marketing strategy is to credential lawyers as subject matter experts using social media, blogs and even Wikipedia entries rather than waste time trying to brand the whole firm, or so the data suggests: 
By having articles, decisions, opinion columns, background on precedent-setting cases, and similar material featuring firm attorneys cited as references in a Wikipedia entry, firms can showcase the expertise of their attorneys in front of in-house counsel. It is important to note that Wikipedia has very specific rules on how entries are to be edited, and a very active community of editors who do not tolerate the use of Wikipedia as a promotional tool. This further supports the notion that law firms should use Wikipedia to enhance existing articles by adding to the fingerprint of reference material contained within those articles, rather than promoting themselves via firm-focused entries.
Analysis.
The full report does a good job at logging the tally of responses and goes a step further to offer analysis which should be of help to those law firm marketing pros that seek to gain traction in the inner sanctum of corporate law departments with their social media activity. However, after I digest the report I hope to return with my own analysis on how I believe private practice lawyers and law firms can use the data to their advantage.
At the end of the day, a big shout out to the report creators and sponsors, Greentarget, Zeughauser Group and Inside Counsel magazine and their teams.  I can't help wondering what goes through the in-house counsel's mind after being asked about their social media behaviors.  I wonder why they were willing to participate? Do they want to help lawyers and law firms better understand how they hire lawyers and law firms? Are they encouraging them to continue to reveal themselves through social media as a more efficient means; i.e. process improvement tactic? Or, maybe they just want them to know that "you never know who's watching!"
In my 2010 book published by WEST, social.lawyers: Transforming business development, I tell the story of Robert Thomas who landed two Fortune 100 clients without ever submitting a response to an RFP, simply because the general counsels both reported that (paraphrased) 'we read your blog, we know what you know and it's like getting to hear your lawyer think out loud and we like what you're thinking!' Pretty cool, huh?
Certainly, no longer is it okay for any lawyer trying to develop new business to be absent from the social web!
Cheers,

NEWS RELEASE from Greentarget
Social Media Adoption by In-House Lawyers Growing, Signaling New Opportunities to Reach Buyers of Legal Services
Second annual In-House Counsel New Media Engagement Survey shows generational usage leveling off; prominent blogs influence hiring decisions; in-house lawyers "invisible users" who consume content without interaction
Chicago, IL January 25, 2012 – A survey released today by communications firm Greentarget, consulting firm Zeughauser Group and InsideCounsel magazine finds that older in-house lawyers—those in their 40s, 50s and 60s—are using social media in far greater numbers than they were in 2010. The survey (#GCSocial on Twitter) highlights key factors that influence hiring decisions among buyers of legal services, and provides new insights for law firms to reach current and prospective clients more effectively through digital communications. The results show dynamic progression from the study's 2010 figures, the first year the survey was conducted.
"The days of the younger 'power users' is quickly fading as older counsel are using social media tools with greater fervor and frequency than they were just 18 months ago," said John Corey, founding partner of Greentarget. "Whether it the continued emergence of blogs, the untapped potential of LinkedIn or the vast implications of in-house counsel listening quietly rather than actively engaging on the social web, the research provides timely new perspective and guidance on how to implement and measure social media strategies geared to the in-house community."
The In-House Counsel New Media Engagement Survey measures how corporate lawyers' use and perceptions of new media have changed and what they are using digital communications to do.
The Highlights:
Prominent blogs influence the hiring of outside counsel. Eighty-four percent of respondents say they think blogs are credible, and more than half think a prominent blog will influence clients to hire that firm.
Blogs declined in daily readers from 2010, but an increase in weekly and monthly readers more than made up for it.
General counsel say they read firm-branded or law firm attorney-authored blogs slightly more often than they read blogs written by professional journalists.
LinkedIn is the most dynamic example of older lawyers increasing their usage of social media, with the majority of respondents of all ages using it at least weekly.
Communications between law firms and their clients is slowly but steadily going social, as evidenced by a modest increase in respondents who said they were using new media tools to access content from their outside firms.
Just seven percent of respondents say they have visited the Wikipedia page of their outside counsel. However, 87 percent say they use the platform to research issues, indicating law firms should consider a different approach to the e-encyclopedia.
Most in-house counsel listen but do not interact online. This suggests that firms cannot accurately measure the ROI of new media by pursuing dialogue and interaction with client-side lawyers.
Hardware innovation is influencing legal marketing as a growing percentage of respondents are using mobile devices—smartphones and tablets—to consume industry news content.
"By addressing not only where in-house counsel congregate online, but also what they are using digital platforms to do and what kind of content they find most meaningful, this research provides fresh insights into how legal marketers can better adapt and align their new media strategies with marketing and business development," said Norm Rubenstein, partner of Zeughauser Group
Added Thomas Duggan, Group Publisher, InsideCounsel: "It is fascinating to see how media consumption habits are changing. For instance, blogs—both those that are firm-branded as well as those that are maintained by traditional editorial operations—play an increasingly prominent role as niche media outlets for news and commentary about legal issues.  As the leading publisher serving general counsel and other top in-house legal professionals, we are committed to keeping our finger on the pulse of how the in-house community is using new forms of media to stay informed and connected."
To download a summary of the research report, click here. For more information, contact John Corey at jcorey@greentarget.net or 312-252-4100.
About the Survey's Authors
About Greentarget (www.greentarget.com)
Greentarget is a strategic communications firm focused exclusively on the communications needs of highly competitive business-to-business organizations.  We counsel those who counsel the world's most sophisticated businesses and direct the conversation among their most important audiences to help deepen the relationships that impact the long-term value of their organizations.
About Zeughauser Group (www.consultzg.com)
Zeughauser Group is the firm of choice for legal industry leaders seeking to increase their competitive advantage and profitability, enhance market position, and strengthen organizational culture.
About InsideCounsel (www.insidecounsel.com) 
InsideCounsel is the premier monthly magazine serving general counsel and other top in-house legal professionals. It is the oldest monthly magazine published exclusively for the in-house community with an editorial mission to provide the strategic tools that general counsel need to better manage their legal departments and fully understand the business risks companies face today.