Now you can pick up your iPhone or Kindle and place that order…
The highly regarded  Consumer Advertising Law Blog created by Arnold & Porter's multi-disciplinary Consumer Protection & Advertising Practice Group is now available as an application for your iPhone or a download for your Kindle.
When I spoke with Neil Rosenbaum, New Business Opportunities Manager at the law firm, about their entry into mobile apps for law firm communications he agreed to share with VMO readers some the process and thinking behind their multi-channel communications program that provides clients and interested readers many ways to access their reporting and analysis.
According to Neil there were three primary reasons why Arnold & Porter LLP developed its first iPhone application for the firm's Consumer Advertising Law Blog:
(1) "We constantly think about how we can reach out to our clients and readers in ways that are convenient for them. It seemed important that our blog content be easily accessible on a platform being used extensively by our business clients and blog readers.

(2) "As a law firm with a significant consumer protection and advertising practice, and the publisher of the popular blog, we felt that it was important to mirror what many of our clients are already doing –creating their own iPhone Apps.

(3) "With the growth of smart phones, Arnold & Porter took this modest step to begin understanding mobile phones as a platform to reach out to and interact with our clients or others."
JN: Can you tell us a little bit more about your multi-platform publishing strategy?

→  Neil: We were looking for new ways to distribute our blog content to reach our client and readers where they read. We already distribute versions of our blog postings via RSS feed, Twitter, and Kindle (another recent development).
In addition, our firm publishes a Consumer Products Marketing e-Newsletter, a publication that pre-dates our blog. The newsletter has blog content and other features. It works well for those clients and readers who prefer something they can read off-line.
JN: How was the idea born and what was the response of decision makers? Was the consensus in favor of this delivery channel overwhelming, lukewarm, or even adverse?
→  Neil: As an iPod Touch user myself, I came across a number of applications which focused on presenting content to readers, as opposed to playing a game, or performing a social network function. It occurred to me that we could do the same with our blog. I presented that idea to the editors of the blog, Randy Shaheen, Amy Mudge, and Robert Pitofsky. They were very supportive to the idea of creating this new channel for accessing their blog content. While we did not yet  hear a strong demand for an iPhone App, we could see that this is a direction that many of the industries we serve are headed. We believe it is important to get the experience early on so that we can take what we learn and apply it to future efforts.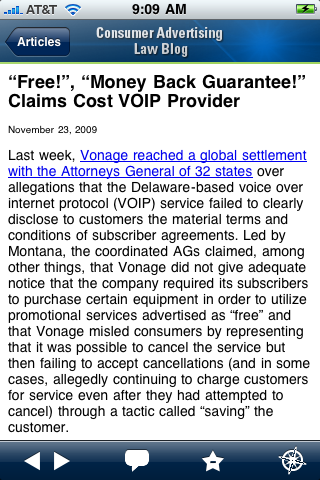 JN: Can you briefly describe the process?
→  Neil: The key aspect of creating the mobile application was that we knew we had quality content from our blog. That was the foundation of the application. There was no point in doing an application unless there was something useful in it for our clients.
In terms of producing the App, we worked with a software developer who was very responsive and good to work with. A key element in working with him was to have open communication and a specific plan about what we wanted to see in the final product. The Arnold & Porter in-house graphic design team created the graphic items for the App. They follow the look and feel of the blog and our corporate website.
JN: How are you promoting the App?
→  Neil: Once the App was tested and launched, we thought it was necessary to use different approaches to get the word out. We posted an announcement on the blog, on Twitter and on the home page of our law firm's website. We reached out to the legal press and to other bloggers and sent e-mails to friends. We posted status updates on LinkedIn. We also did extensive internal promotion, a very important step, to encourage our attorneys to spread the news to those who might be interested in downloading it.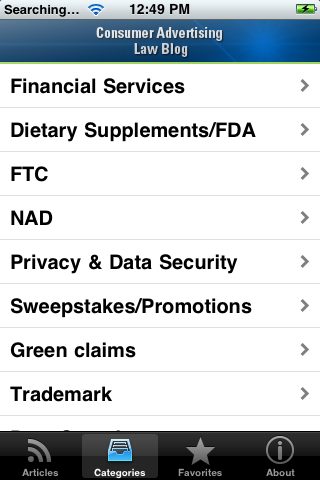 JN: How can our readers get the App and how much does it cost?
→  Neil: The Application is free. If you have an iPhone or iPod Touch, you can download the application by clicking here (opens iTunes link). Or  you can access the App store from your iPhone, search for  Consumer Advertising Law, and download it directly.
A Kindle version of the content is available for $.99 a month at Amazon.
JN: How successful has the App been so far?
→  Neil: While still early in our launch period, initial comments about the app have been favorable. As far as we know, Arnold & Porter is the only AmLaw 100 law firm to offer a Kindle or iPhone application for distributing their content. We're excited about being on the forefront, and we're looking forward to our next step now that we have this experience under our belts.
Thanks, Neil. I'm sure VMO readers will be watching for your next steps!

I suspect we'll be seeing a lot more activity from law firms in the mobile space. Personally, I often access the ABA Journal, Wall Street Journal, and JDSupra apps on my iPhone. It's so much easier than opening the web browser to read content.
What do you think? Will more law firm clients demand cross format access to your content this year? Are you asking your clients how they want to receive your content? What about Blackberry? Anyone planning a Blackberry App? Or Android users? Not there yet?
If you have any developer resources to recommend to our readers, feel free to do so – please, no advertisements.