What social media sites work best for lawyers?
I am often asked the question, what social media sites work best for lawyers?  My response: the choice is really quite simple—there are only two—publishing or networking. Don't focus on the fact that there are hundreds of social media sites and services to choose from. Focus on which of these two types of activity you like doing, and I believe that when you are doing what you like to do, you will do it more often and more efficiently; i.e. you won't waste time procrastinating. So, here's what it looks like in a nut shell–or a circle…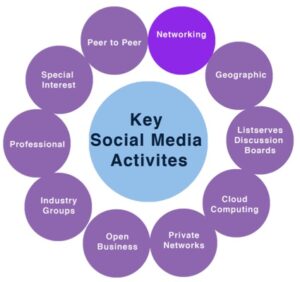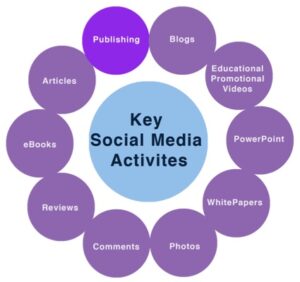 PUBLISHING: If you like to write, (or want to get better at writing) and don't mind spending a few extra hours brain power each week, publishing is a natural choice. And/or, if you are often asked to do presentations, you can re-purpose them by publishing a video or a snazzy slide deck or ScreenCast to share on the web.
NETWORKING: If you'd rather invest your limited time, here and there, sharing a brief thought or a link to something interesting you've read, then networking sites are a perfect fit. Once you get set up (the most time consuming part), you can begin building a network by sharing valuable snippets of conversation, insight, or information that will expand your opportunities. This can take as few as two minutes to craft a smart Tweet or as long as 10 minutes to respond to a discussion on Quora, LinkedIn or Facebook.
Social Media sometimes isn't an either/or.
For the sake of simplicity in explaining how you might think through your social media choices I've created this bright line between publishing and networking, but in fact, it's not always that bright.
Most lawyers that publish content to the social web find it necessary to do a little networking to gain more exposure for their placements. And most people that network tend to find that adding in some long form writing or other multi-media publishing to their networking activities is beneficial.
Also, it is often the case that publishing creates networking opportunities and networking creates publishing opportunities.
If you publish something to the social web,  you're likely to get comments or reviews that become a sort of handshake that starts a conversation; i.e. networking.
If you're networking in a trade group on LinkedIn and you're adding value, it's highly likely that there's a blogger in there who invites you to write a guest post or a journalist who asks you for an interview. Someone in the trade group might engage you to speak at a conference that results in a slide deck you can publish or asks you to write a white paper for their members.
Keep it simple.
Preparing your basic social media strategy doesn't need to be difficult. Simply chose an activity you think you'll like, set some benchmarks and objectives, stick with it for a while and see what happens. If it doesn't seem to be happening, just switch to something else. At the end of the day, you'll probably find that a mix of publishing and networking is just the right approach for you.
Meanwhile, check out these sites for some great ideas and motivations for using social media in your business and practice development.