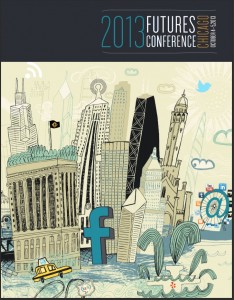 For Immediate Release
The College of Law Practice Management Futures Conference Adopts a TED Talk Format
Chicago, Illinois – August 19, 2013 – College of Law Practice Management conference organizers have released the agenda for the upcoming Futures Conference.  Held in Chicago at the Chicago-Kent College of Law (a co-presenter of the program) campus on October 4-5, 2013, this highly interactive conference on the future of law will feature keynote speaker Stephen Mayson, Director and Professor of Strategy, Legal Services Institute, London. Other highlighted TED legal industry discussions include:
The Market for Legal Services in the Future (from the Buyers' Point of View) by Ann Lee Gibson, Ph.D., Ann Lee Gibson Consulting
Innovation in the Law Firm by Jordan Furlong, Partner Edge International and Senior Consultant, Stem Legal Web Enterprises
The Future of U.S. Law Schools by William Henderson, Professor, Indiana University Maurer School of Law and Director, Center on the Global Legal Profession.
Session attendees will be assigned to breakout groups for a facilitated discussion.  TED facilitators will guide the breakouts and report findings and observations to the full audience.  A compilation of the breakout results will be available at COLPM.org after the Futures Conference.
Ron Staudt, President of COLPM, Professor, IIT Chicago-Kent College of Law and Director, Center for Access to Justice & Technology, is leading a panel on "Lawyering and Legal Education in the Digital Age."
Registration for College Fellows is $495 and for non-Fellows is $595.  Registration is also discounted for other legal industry association members, such as ABA, ALA, ILTA and LMA, to $495.
We invite reporters and editors who cover the business of law to participate as registered attendees, and will waive the registration fee for the first five media professionals who contact COLPM Executive Director, Karen Rosen, at karen@colpm.org.
For more information, please download the 2013 Futures Conference brochure here:  http://collegeoflpm.org/wp-content/uploads/2013/08/2013-Conference-Brochure.pdf
The College Law Practice Management was formed in 1994 to honor and recognize distinguished law practice management professionals, to set standards of achievement for others in the profession, and to fund and assist projects that enhance the highest quality of law practice management.
CONTACT:  Karen Rosen, karen@colpm.org, 720. 271. 7015.
The VMO will be covering the conference – virtually. Check back for summaries and more…