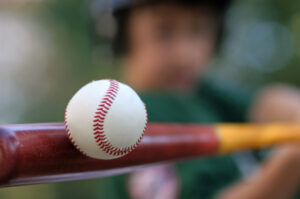 A blog without comments is like a newsletter printed in digital ink—delete. A Facebook Page without conversation is like a malfunctioning cellular tower—"can you hear me now?" and a Twitter stream occupied by self-congratulatory announcements is like fishing in a bathtub—you're not going to catch a thing!
A fundamental aspect of social media is missing for most law firms and without it they can't hit the ball out the park because they're not even in the ball game—social media is not just a marketing channel, it's a communication ecosystem.*
In the social media big leagues, everyone is given a turn at bat—they get to say what's on their mind. But law firms rarely foster (or even allow in some cases) a two-way conversation via their social media properties.
And, maybe they don't have to.
If they don't, here is what they risk.
"Until law firms face the same realities that their corporate cousins face, daily, being subjected to the perils of social conversations among customers, they will not, in the true spirit of social media, ever hit it out of any ball park—certainly not in the Big Leagues."    Me.
Any law firm that has a client with a connection to social media (and if you haven't looked lately almost every business or brand, large and small, is defending their reputation in real time on social media today) and does not have some skin in the game will risk losing that client to a law firm that does. (That's what my crystal ball tells me—and it's been right many, many times.)
Owning a bat does not count.
Wanna play in the Big Leagues? Are you comfortable with dissent or criticism? Are you prepared to turn lemons into lemonade? Do you have a following of loyal fans standing by to cheer you on when the score is Them:10 You: zip?
Just because you have the equipment, i.e., bats, shoes, and gloves—blogs, videos, Facebook and LinkedIn company pages—doesn't mean you're in the game. Tools are NOT social media. A bat is just a bat until a slugger picks it up and nails a home run—that is what makes a bat valuable.
Social media requires that a human being shows up, picks up a tool, and makes some magic. It requires understanding how the game is played. It takes imagination, strategy, good coaching, and a bit of luck. You need to practice your hitting, catching and pitching before you get on the field. And oh, by the way, if you don't have Babe Ruth on your team, you need some good runners who can at least get you on base.
Let's play ball! But…wait, the rules have changed?
The balance of power between marketer (lawyer/law firm) and consumer (client) has shifted to the consumer. Shareholders, managing partners, CEOs, COOs, CFos, and certainly CMOs need to understand what this means to you, AND more importantly, to your clients. (Are you Following, Friending, Liking, Connecting to them? You should be!)
"The minefield of customer commentary has been a part of the conversation since the dawn of social media, and the various high-profile brand blowups over the years have been well-documented. Considering that so many marketers have learned the hard way that consumers have a voice—and they're going to use it—one might think that brands would have gotten savvy by now."  Brand #Fail, AdWeek, Gabriel Beltrone, May 15, 2012.
And one might think that their law firms would get savvy too.
Ultimately should the law firm choose to play ball themselves, they will need to add some corporate lessons to their playbook. And, I recommend that law firms do play ball. It's always wise to walk-a-mile-in-their-shoes in order to acquire a little empathy, show some team spirit and maybe offer some counsel—you are their trusted counsel, right?
For now, the ACC Value Challenge, a closed forum where corporate counsels submit evaluations of outside legal service providers and provide feedback to their in-house peers, is probably as close as a law firm can get to feeling vulnerable to consumer commentary (because so few are open to it on their social media properties). However, this is not nearly as scary as having the conversation in public.
Social media amplifies voices.
It so rare that we see a law firm inject 'conversation' into their social media accounts, preferring to simply post or push corporate messages. (Note: I differentiate law firm vs. individual lawyer here. Many individual lawyers are doing a great job at engaging via social media and finding reward for their efforts.) In fact, many law firms turn off comments. Is this behavior equivalent to the inadvisable "no comment" response to journalists—implying you have something to hide? How good can that be?
Granted, allowing and/or participating in public conversations on the web can be a bit tricky, of that there is no denying. You cannot control the messages others post about you; you can only 'guide' them and of course moderate them. BUT, once approved/posted, you cannot delete them; (See the Streisand Effect) (See also Politwoops.com) it will only flame a fire and give your critics more ammunition.
Did you know that corporate brands in the Big Leagues prepare themselves for and also get comfortable with a certain amount of dissent? As their law firm, did you know that, for example, deleting an unwanted comment from a page can cause big time backlash? Big Brands learn how to deal with negative social media issues, (and so you should, too). Over time they develop loyal fans (advocates) and know how to mobilize them quickly (often offering rewards of free stuff) when the team needs some extra support. (How cool would that be if you could "understand" this aspect of your client's business? I can help you! Unabashed self promotion: Check out my new service offering.)
Who's on First?
Control may be a legitimate need for a law firm, but it is not a need that can satisfy at face value when playing in the social media ball game. Without conversation dare we even call what law firms are doing in the social media arena today, social media?

Do we care? Do we need to have skin in the game? A pile of bats (blogs/videos/articles/profiles) is just that, a pile of bats until some one picks them up and uses them with professional skill and power. The blog itself is not going to score a home run, but the lawyer who is savvy, provocative, skillful, AND, includes his readers in the conversation will almost certainly be able to eventually hit the ball out of the park.

A blog without comments is like a newsletter printed in digital ink—delete. A Facebook Page without conversation is like a malfunctioning cellular tower—"can you hear me now," and a Twitter stream occupied by self-congratulatory announcements is like fishing in a bathtub—you're not going to catch a thing!

A lawyer who doesn't understand what their client is "feeling" (yes, FEELING) in the social media mix is like a surly waitress in a airport restaurant—aloof, uncaring, detached, working for their tips.

* Shout out to David Armano, evp of global innovation and integration at Edelman's digital practice for the phrase "communications ecosystem" which has become my new mantra as it fits so well.