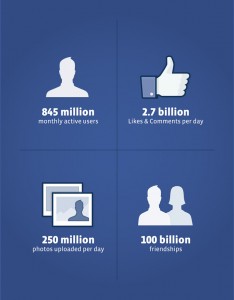 Potential buyers got their first look at Facebook financials yesterday, which showed the company produced a $1 billion profit last year from $3.71 billion in revenues. The company derives 85% of those revenues from advertising, with the rest from social gaming and other fees. The initial public offering could value the social network between $75 billion and $100 billion, putting the company on track for one of the biggest U.S. stock-market debuts of all time.
Facebook's membership growth has been staggering. The company said in its filing that it has 845 million users globally, up 39% from a year earlier.

Facebook takes pains to mention the importance of privacy, mentioning the word 35 times in the filing, and even listing its "privacy and sharing settings" as one of the ways the company creates value.

The number of ads delivered on the site grew 42% and the average price per ad grew 18% over 2011 from 2010, according to the filing.

The company attributed the improvement to a vast trove of information that allows marketers to "show their ads to a subset of our users based on demographic factors such as age, location, gender, education, work history, and specific interests that they have chosen to share with us on Facebook or by using the Like button around the web or on mobile devices."
INVESTORS' RISK

While all this is quite interesting data to me, there was one particular piece in the IPO filing that caught my attention:

As a matter of required disclosure, to caution investors against buying blindly, Facebook had to release a list of "risks" on the S-1 Registration Statement.
A quick review of those risks, which follows, made me think…this is a terrific exercise and one that law firms could benefit from—a REALLY HONEST assessment of their "risks." 
SIDE BAR: A SWOT analysis completed during strategic planning—strengths, weaknesses, opportunities and threats—will likely get you to the answers, as I'm thinking threats could be substituted for "risks." With one caveat: your list of threats cannot be unfounded nor cliché. I've seen many law firm SWOT reports, and I have to say that too many have made me wonder if they were just filling in the blanks or if they really knew or understood their actual market risks?

Now, if a law firm did plunge into a market risk assessment, what if instead of keeping risks hidden in the executive boardroom, what if that list was distributed among the firm's stakeholders (not just partners but also employees whose careers are dependent upon the success of the law firm)? Couldn't that help the firm's best interest? After all, they are all investors at various levels and…they have ability and responsibility to protect the firm's best interests from its risks. How can they do that if they don't know what they are? Management? Do all your attorneys know? Is it practical to share that information with an associate who might be on his way out in another year and off to a competing law firm?
What do you think? Maybe not? Just saying…I think it would be of great benefit on several levels.
 Here is the list pulled from the Facebook SEC Form S-1 Registration Statement. Thanks to Brian Solis for pointing it out on his blog post of Feb 1, 2012.
FACEBOOK RISK FACTORS

Risks Related to Our Business and Industry
If we fail to retain existing users or add new users, or if our users decrease their level of engagement with Facebook, our revenue, financial results, and business may be significantly harmed.

The size of our user base and our users' level of engagement are critical to our success. We had 845 million monthly active users (MAUs) as of December 31, 2011. Our financial performance has been and will continue to be significantly determined by our success in adding, retaining, and engaging active users. We anticipate that our active user growth rate will decline over time as the size of our active user base increases, and as we achieve higher market penetration rates. To the extent our active user growth rate slows, our business performance will become increasingly dependent on our ability to increase levels of user engagement in current and new markets. If people do not perceive our products to be useful, reliable, and trustworthy, we may not be able to attract or retain users or otherwise maintain or increase the frequency and duration of their engagement. A number of other social networking companies that achieved early popularity have since seen their active user bases or levels of engagement decline, in some cases precipitously. There is no guarantee that we will not experience a similar erosion of our active user base or engagement levels. A decrease in user retention, growth, or engagement could render Facebook less attractive to developers and advertisers, which may have a material and adverse impact on our revenue, business, financial condition, and results of operations. Any number of factors could potentially negatively affect user retention, growth, and engagement, including if:
users increasingly engage with competing products;
we fail to introduce new and improved products or if we introduce new products or services that are not favorably received;
we are unable to successfully balance our efforts to provide a compelling user experience with the decisions we make with respect to the frequency, prominence, and size of ads and other commercial content that we display;
we are unable to continue to develop products for mobile devices that users find engaging, that work with a variety of mobile operating systems and networks, and that achieve a high level of market acceptance;
there are changes in user sentiment about the quality or usefulness of our products or concerns related to privacy and sharing, safety, security, or other factors;
we are unable to manage and prioritize information to ensure users are presented with content that is interesting, useful, and relevant to them;
there are adverse changes in our products that are mandated by legislation, regulatory authorities, or litigation, including settlements or consent decrees;
technical or other problems prevent us from delivering our products in a rapid and reliable manner or otherwise affect the user experience;
we adopt policies or procedures related to areas such as sharing or user data that are perceived negatively by our users or the general public;
we fail to provide adequate customer service to users, developers, or advertisers;
we, our Platform developers, or other companies in our industry are the subject of adverse media reports or other negative publicity; or
our current or future products, such as the Facebook Platform, reduce user activity on Facebook by making it easier for our users to interact and share on third-party websites.
______________________________________________________________
As a bonus, here's the open letter from Mark Zuckerberg, CEO, included in the S-1 filing. The Facebook mission statement:
LETTER FROM MARK ZUCKERBERG
Facebook was not originally created to be a company. It was built to accomplish a social mission — to make the world more open and connected.
We think it's important that everyone who invests in Facebook understands what this mission means to us, how we make decisions and why we do the things we do. I will try to outline our approach in this letter.
At Facebook, we're inspired by technologies that have revolutionized how people spread and consume information. We often talk about inventions like the printing press and the television — by simply making communication more efficient, they led to a complete transformation of many important parts of society. They gave more people a voice. They encouraged progress. They changed the way society was organized. They brought us closer together.
Today, our society has reached another tipping point. We live at a moment when the majority of people in the world have access to the internet or mobile phones — the raw tools necessary to start sharing what they're thinking, feeling and doing with whomever they want. Facebook aspires to build the services that give people the power to share and help them once again transform many of our core institutions and industries.
There is a huge need and a huge opportunity to get everyone in the world connected, to give everyone a voice and to help transform society for the future. The scale of the technology and infrastructure that must be built is unprecedented, and we believe this is the most important problem we can focus on.
We hope to strengthen how people relate to each other.
Even if our mission sounds big, it starts small — with the relationship between two people.
Personal relationships are the fundamental unit of our society. Relationships are how we discover new ideas, understand our world and ultimately derive long-term happiness
At Facebook, we build tools to help people connect with the people they want and share what they want, and by doing this we are extending people's capacity to build and maintain relationships.
People sharing more — even if just with their close friends or families — creates a more open culture and leads to a better understanding of the lives and perspectives of others. We believe that this creates a greater number of stronger relationships between people, and that it helps people get exposed to a greater number of diverse perspectives.
By helping people form these connections, we hope to rewire the way people spread and consume information. We think the world's information infrastructure should resemble the social graph — a network built from the bottom up or peer-to-peer, rather than the monolithic, top-down structure that has existed to date. We also believe that giving people control over what they share is a fundamental principle of this rewiring.
We have already helped more than 800 million people map out more than 100 billion connections so far, and our goal is to help this rewiring accelerate.
We hope to improve how people connect to businesses and the economy.
We think a more open and connected world will help create a stronger economy with more authentic businesses that build better products and services.
As people share more, they have access to more opinions from the people they trust about the products and services they use. This makes it easier to discover the best products and improve the quality and efficiency of their lives.