I found this news alert from the Wall Street Journal fascinating on a couple of accounts:
"Interest in shares of Facebook is so strong that Goldman Sachs plans to stop soliciting interest from potential investors on Thursday, after the securities firm received orders worth several billion dollars." (Link to article -subscription may be required – unlike Facebook they have to cover the overhead of producing professional content!)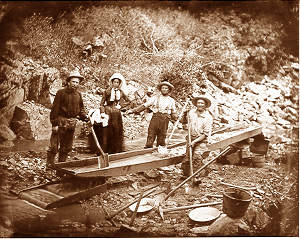 I don't know about you, but, I love the service Facebook provides and I'm glad they are doing well. It is probably the most powerful media holding on the Net – much to the surprise of many – and it may eventually become the NET – well, it is sure to be headed somewhere big with this new round of capital. The communities on Facebook are strong. There's a lot to like about that for advertisers. And, obviously that's not being missed by the  gold-rush investors. So I'm wondering, how are law firm marketers seeing it? Are they ready to invest boldly? Here's how I see it.
What Make Facebook Valuable?
What makes Facebook extremely valuable is not that 500 million (or whatever the new number is) people gather there, but that those people share their information freely allowing Facebook to give advertisers the data they want and need to target their audiences. Never before has it been so easy (and so profitable) for a media company to do this.
(As an aside, in the early days of Facebook I was often unhappy about how they used my personal data without telling me, but these days anyone who uses an application within the service or shares information with EVERYONE has fair warning that their data is working in the background for Facebook's commercial gain. There's no such thing as a free lunch, right? We have fun sharing pics of the kids and Facebook makes boatloads of money.)
Advertising and Media.
Advertising has always paid for media —the whole kit and kaboodle; content, production, distribution, overhead and profit, for TV, magazines, newspapers, radio, etc.. But, Facebook doesn't have content production costs; users do it for them, leaving only hard costs in making sure the "press," so to speak, keeps running smoothly. It's very attractive and it must be awfully lucrative for investors. What to do with all this profit –or am I missing something?
For advertisers it's both a blessing and a curse. Sure they have access to amazing user data, sliced and diced digitally, but they now have to create the ad AND the content. That's time intensive and expensive to do it right. (see chart below)  It takes bodies to produce and maintain quality content (reference old media) and bodies cost money. The new media, such as Facebook, is now passing along content creation costs to the advertiser leaving more profit for them. Hmmm. Very attractive for investors and advertisers don't seem to mind as the data from Altimeter Group shows in this chart of projected corporate spend on new media in 2011.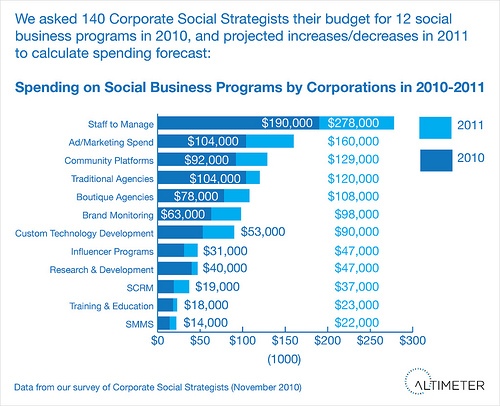 Staff and ad spend take the two top spots. Are law firms prepared to jump in?
Law Firms' Facebook Pages.
More law firms are setting up Facebook pages – it's tough going, right? A lot goes into creating the content and few lawyers are willing to pitch in. The burden right now is squarely on the shoulders of the marketers – many find it to be just another underfunded challenge. Worse, law firm management gives it little or no strategic value.
So, they assign the task to a marketing coordinator (Thinking….they're Net natives, right, they know all about cool Facebook content. Hmmm… jump below***), throw up some press releases, and get employees, partners and families to "like" the firm page. Ho hum. Is that what it's really all about? I say no. Legal marketers need to be preparing their next steps now.
I want to hear from lawyers, law firms and marketers who are taking Facebook seriously. How are you leveraging the demographic data available from FB?  Would you share with us how it is going? And, what about content creation? I've heard a few very large firms have added staff. What are your plans for 2011? Do you have any secret plan of attack – not asking you to share what that is, just curious to know if we're getting closer to a truly strategic mentality about Facebook in the legal marketing profession.
Thanks in advance for your contributions to this stream of thought.
Content production and the staffing conundrum.
***I'm not implying here that entry level marketers of the Net generation aren't entirely capable of producing good content, however, this will only happen when the law firm and the CMO empower the content builders. That takes an awful lot of trust, not to mention training so that the content builders understand and apply professional ethics and confidentiality where it is needed. The content builders must also understand the law firm's market (whoa – big job) and what is at stake for the entity, as well as what measurements will float the boat. This, in my opinion, needs leadership. Senior leadership. Trouble is, leadership doesn't have time to devote to something that is not directly tied to business results – generating real revenue. So, it gets pushed down. This, I think, may be where we need to rethink what we're doing. I think the benefit of early adoption in leveraging new media, specifically Facebook, is potentially huge. What do you think?