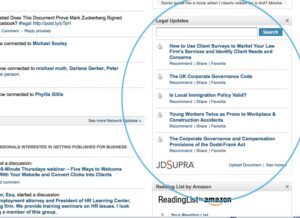 I predict that just about EVERYONE on LinkedIn will have a good reason to add Legal Updates, the new application from JDSupra, to deliver legal industry content to their landing page. For lawyers, though, at least those who are posting to JDSupra.com, the new app is…
"….like peanut butter and chocolate…."
That's what Ron Coleman, head of the intellectual property practice at Goetz Fitzpatrick LLP in New York and publisher of the award winning legal blog Likelihood of Confusion, thinks. I spoke to Ron on the phone the other day about LinkedIn and JDSupra after hearing about the new client he got in response to a document he posted on JDSupra. Here's what he told me…
"I was fan of JDSupra early on. I saw it as a great way to sell what I had to offer — experience, originality and quality of work. It's extremely easy to use and it provides another place for a profile which I use to point people to EXACTLY what I've done. I probably have an advantage over lawyers who don't have the freedom to post things. I'm not hemmed in by institutional concerns."
Despite the notion that the social Web is all about sharing, conversation and collaboration, for Ron, it's about how the documents he posts on JDSupra are dynamically aligned with search engines; allowing anyone searching for him or his expertise to find it.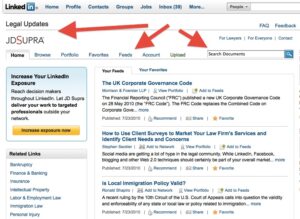 With the new LinkedIn Legal Updates application, it gives him another gateway;  a gateway serving a fairly targeted business audience. Any time you can leverage what you post—post once and distribute it widely across the Web without added work—is a real plus. When you have a captive, targeted audience, well, it's like getting a double dip. And that's exactly what the JDSupra app for LinkedIn is all about.
You can preview and install the application here.
You don't need to have a JDSupra account to access and download the app to your LinkedIn profile. But if you do publish to JDSupra, you'll want to connect your JDSupra account to the LinkedIn app so all of your content is fed seamlessly into the app and can be searched for or browsed within the application by anyone within the LinkedIn social network.
About that client…
So, you're probably wondering about that client Ron got, right? Well, here's the story.  A mid-west lawyer's client was served with papers in New Jersey. With no attorney relationship in New Jersey, the lawyer went to Google. Instead of blindly searching for a lawyer, he started by searching on the name of the guy who was suing his client. As it happens, a link to one of Ron's documents on JDSupra that discussed how he had successfully litigated against the same plaintiff turned up. The lawyer reads the document and figures here's a guy who knows who we're dealing with. He then called Ron and within a few hours sent him a $10,000.00 retainer to handle the matter.
Some helpful instructions for making the most of Legal Updates on LinkedIn.
Publishing on the social web is an excellent marketing tactic that as Ron knows, "enables you [and search engines] to point people to EXACTLY what you've done."
For users, the beauty of JDSupra's LinkedIn application lies in its simplicity of set up and customization. Here are some simple instructions:
The heart of the app, EVERYONE on Linkedin can do it. Customize your LinkedIn page feed.
There you go!
Got any good stories about getting new clients from publishing your content on JDSupra or LinkedIn? Share them below. For more social.lawyer stories check out my new site www.sociallawyers.com.